Development
Extra Development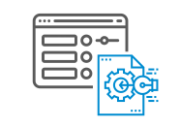 If you have some creative ideas to improve your webstore but can't find anything of the king among the offers listed on our website, we will be glad to offer you extra development service and add almost any feature you wish.
The price will be quoted after our evaluation of time and efforts necessary to embody your ideas.
All the calculations are based on the rate of $30 per hour.
If you are interested, please contact us so that we can prepare a quota for you, issue an invoice and start the work after the invoice is paid.
You may also be interested in: